India has some seriously nice luxury accommodations to offer for tourists, but hey… We're not all millionaires. Some of us are on a budget, because we are backpacking, students or simply because we want to see so much of this world that we need to save up as much as we can and spread out the budget as much as we can. This post is for those of us.
Before you start reading this post, you might want to check out my itinerary suggestion for a backpacking trip to India and my transportation guide for first-time visitors in India. Once you have figured out what to see and do, where and how to go, you might want to start thinking about accommodation and where / what to eat in India.
Expectation vs. Reality
India is a developing country and especially if you are traveling on a budget, sleeping options may surprise you sometimes in a negative way if you are not well-prepared and if you do not have so much money to spend on hotel nights.
A tip I would give any first-time traveler to India is to lower your expectations: especially sanitary facilities are not meeting Western standards and cleanliness levels are lower than anywhere in the world where I have traveled to so far.
My perspective on this is: the less you expect, the more positively surprised you can turn out to be once you are there enjoying your travels. This is not about being pessimistic but about being realistic and avoiding yourself to be disappointed or frustrated.
The good news is that there are some amazing hostels in India, from hidden gems to popular chains that own hostels all over the country. If you want to know more about my hostel recommendations in India and how to book them, check out this post.
My Favourite Hostels in India
There are so many hostels in India that it becomes hard to choose from. Luckily there are reviews nowadays for travelers to check customer satisfaction. Here I list you the hostels I stayed at (with my rating from 1 to 5 stars) so that you get an idea of where to stay:
This was my first hostel in India and immediately a positive surprise. I met many like-minded travelers here, participated in social events (such as a pub crawl) organized by the hostel and got great help in arranging my Indian SIM card, booking local transportation, and s on.
I would stay here because it is a great place to socialize with other travelers, it offers a good included breakfast, has many great nightlife options and amazing staff! There was hot water too so … what more do you want!?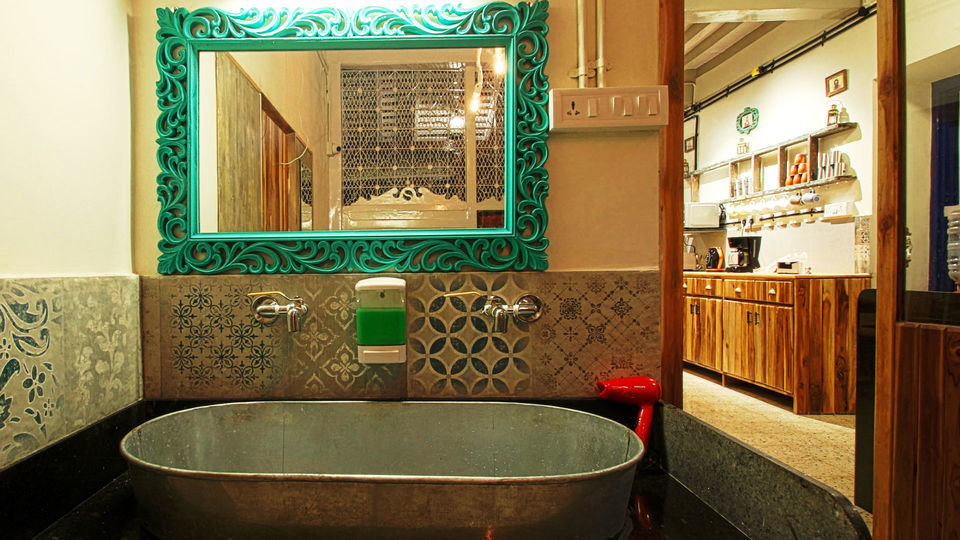 This hostel has a good backpackers' vibe with a nice outdoor seating area to socialize with fellow travelers and party animals. People hang out here to pre- or post-drink after daily Goa parties.
The hostel staff is very friendly and even fixes you drinks. So basically, the reception can be converted into a bar at night. The communal kitchen is good and the showers are hot. Bed comfort also great so nothing to complain about. Maybe… a little walk from the beach but hey, we aren't that lazy, are we?!
This was definitely one of the better options to stay and eat out in town. I really liked the location, service of the staff and food quality on the rooftop terrace. Also enjoyed 2 days tuk tuk excursions with private taxi to the sites in Hampi. Lovely also to see the elephant of the village going to the river from there. But beware of the jumping monkeys sometimes 😉 on the roof.
A bit pricey for what it is. My lower room wasn't great, bit of a smell in the bathroom and the A/C did not work but they repaired it when we persisted on it. The upper room on the first floor seemed to be a bit more spacey and light with a window. Would recommend others to get that one, if possible.
This is one of the better places in Mysore but needs some service upgrades done. It was a beautiful old mansion with a nice style of interior in the center of Mysore. It was clean and quiet.
There was not really a backpackers' vibe as many travelers seemed to be there for yoga and relaxation. The staff was not great (as in friendly) and the food at the restaurant could be better but it was a relaxing place after all.
I also found it annoying that they turned all the lights and electricity off at night in the toilets, showers, common area so it was really difficult to go to the toilet at night and leave at 5AM in the dark… The guard was too much!
This is a beautiful homestay in traditionally built style in Cochin! It is a newly build place (a few years ago) but looks very traditional, so it has the best of both worlds: comfort and style. Great bathroom, clean and nice breakfast service included.
Friendly staff and quiet atmosphere. A/C is optional but recommendable in this city with its tropical heat. I enjoyed our stay here and would come back for sure! There is not much to dislike to be honest, maybe it is a bit expensive for Indian norms, but we loved it anyway.
I decided to stay at Johnson's Homestay because he also offers houseboat experiences in Alleppey (and this is REALLY a must-do overthere!). However, I was a bit late in booking and I did not make it clear enough that I wanted a traditional boat (and not a newly renovated kitch boat with many colored lights and glass windows).
Johnson ended up trying to place me in a boat for 4000 rupees (per person per night) I did not like and so I went somewhere else in the street, at Artpackers, to book another houseboat for only 3500 rupees (per person per night). The Artpackers Life hostel looked really amazing and the staff was so friendly even though I did not stay there. I think I would stay there if I would revisit Alleppey.
Johnson offered a good price and the value of the room was OK, but the vibe was not that great and he was acting a bit annoyed and tempered when I refused his boat offer. The included breakfast was really basic (but acceptable for the price) but I did not enjoy it so I would rather eat somewhere else. Overall, not a great experience.
My stay here was okay but it was not the best Zostel experience compared to other ones. There was one amazing receptionist who helped me out in booking train and bus tickets, who gave me info and a good room, but the other guys did barely speak English and did not know about anything. This hostel needs some work done when it comes to a good vibe, staff engagement and then everything will be fine.
The restaurant was nice but it should have been open all day, and the bathroom smelled a little bit because of the drain. There was a bit of a discussion with the staff members because they did not seem to understand us very well. I hope they can train the staff better, that would help a great deal, also in ordering food, for example: they gave me the wrong dish because they misunderstood. Ate it anyway. Felt a bit bad for them otherwise…
The Hoztel in Jaipur was absolutely amazing! I really enjoyed my stay here because the staff was super helpful and tried to make the best out of my time in Jaipur. The breakfast was great (but not included in the price) and they have delicious frappe coffees. The room and bed comfort was amazing and the hot water worked perfect. Chilling out on the terrace and a large library were a nice bonus.
I loved the hostel so much, but the city a bit less… It is a really nice hostel! Beautifully decorated, nice staff members, very friendly, hot and good showers, good bed quality, comfort, great rooftop terrace, … what more do you wish for!? They also gave good recommendations about places to eat and visit nearby.
Top stay although I didn't stay long so could not rate the food because it wasn't possible to order something to take away early in the morning, which would have been nice. City is a bit of a walk but no problem if you are together with someone.
I did not enjoy my stay here at all. The rooftop terrace is very nice, but does not really belong to the hostel (it is a separate restaurant and you have to consume to chill there). The breakfast on the roof is nice and included, which is the big bonus.
The staff is horrible, they don't even manage to give you the correct bed, I had to change rooms 3 times because they just let anyone take any bed. I ended up in a mixed instead of female dorm with no shower but a bucket, changed again until I had a shower but it was a dirty bathroom with a creep other guy in it. In the middle of the night they came in twice from the reception to offer other travelers other beds in the room but they left and didn't stay. I didn't like it at all. Better staff management would probably help a lot.
I would go to other hostel. Gypsy Child Lake Hostel Udaipur looked like a better choice, so I would stay there if I would go again.
I absolutely recommend you to stay here when you come to Jodhpur, you'll love it! Although I only stayed one night at this hostel, I truly loved it! The receptionist was very friendly and helpful, the thali (food dish) was great for its price-value and the rooftop terrace was a nice place to have some views over the fort and to catch up with other travelers. The room was perfectly fine, spacious and clean, we absolutely enjoyed our stay here and really valued the European-styled interior of this hostel. Would recommend it to other travelers for sure!
This is a beautiful brand-new hostel with great camel safari that opened late 2018 – early 2019. I stayed here for 2 nights, and basically got 1 night out to go on a camel desert safari and 1 night I slept at the hostel.
I booked my camel safari online, which turned out to be much more expensive (about 2400 rupees per person) than onsite (about 1900 rupees per person) with the same guys. Some tax related issues… But still a great value for going out to visit some archeological site, a village, a few hours on the camel, bonfire camping with great food and lovely staff at the desert, sleeping open air (or in tents if you want to), and beautiful sunset and sunrise…
A true desert dream coming true! One of the highlights of my stay in India, Rajasthan!
The bed comfort in the hostel dorm was also great! And the lockers were spacious too. I got a lot of Chai (tea) by the friendly owner, and some snacks even when watching sunset from the beautiful rooftop terrace, with free traditional live Rajasthani music. And it is so picturesque here. Even the food was good. Private rooms also seemed to be really nice but a bit pricey for a hostel.
PS: I also loved that the owner said that 10 percent of their earnings go to the locals in the Fort village, where the hostel is located in (top top location too!, although the tuk tuk cannot reach it until the entrance, and you need to walk a little bit up there with your stuff). He also gave us good recommendations about places to eat, to visit, and arranged us a tuk tuk taxi to the airport. I absolutely loved my stay here and would definitely recommend others to stay here too! Thumbs up for Zostel!
The only sad thing is that I got bitten by a camel, which can happen with animals of course. It was not the fault of the camel drivers, of course. I had to go to the hospital for a rabies vaccination, and the staff recommended me to go to a nearby hospital. That was a bit of a crazy experience in the middle of nowhere but when I got back to Zostel, the staff was super caring and friendly, provided me ice and towels all the time, and checked upon me.
The other only thing I found disappointing for a brand new and TOP hostel like this I found the bathroom condition: although it was spacious, the shower had almost no pressure and could not be attached to the wall so I had to use the bucket. This could use some improvements, but I am sure the passionate owner and motivated staff members will take care of this
This hostel was good but did not have a very good social vibe in it, or at least that's how I experienced it. The location is central but you still need rikshaws to get anywhere around. The street is crazy, as in busy and a lot of dodgy and poor people trafficking and hanging around there. Not surprisingly, therefore, the hostel has its own security agent at the entrance which gives a bit of an airport feeling to it, and not very welcoming.
I know it is difficult in a horrible city like Delhi to make the best out of your time, but I am still not sure if that is the only reason why I did not really like the hostel so much. The kitchen and reception are one place (and only 2 staff members) and the smell of food is everywhere. Food is OK but not great and overpriced. There is a house cat, which is OK.
My Favourite Hotels in India
For some destinations, I booked myself a hotel for the simple reason to allow myself to have a bit more luxury and comfort every once in a while, and take a break from the dorm and shared bathroom life. I was particularly happy to stay in an Ayurvedic resort in Varkala to enjoy a few days of retreat and massages to find back my inner peace.
I absolutely wanted to stay at an Ayurvedic resort with swimming pool during my time in Kerala. I sent out a few emails to hotels who offered both ayurvedic packages and a pool, and who were centrally located near the beach, but I must admit that most of them were either too expensive or fully booked long time in advance. One advice: do research and book ahead!
I booked a package for 12000 rupees for 2 nights including accommodation, all meals (Ayuvedic diet), consultation with a doctor, 2 treatments per day, a body constitutional analysis, herbal water, medicine during the treatment course, Wi-Fi, daily yoga and medition, and a pick up and drop off to the airport / railway station.
I really enjoyed everything – especially the pool with its sundeck and beautiful sunset views – and I also think that the ayurvedic program is amazing, although my time here was too short to notice any substantial difference in my mental and physical health. I would come back for sure here!
I did not enjoy my stay here at all so I would never go back. If there was one positive thing about this hotel, maybe it was the rooftop breakfast. It was convenient. The bed comfort was also good. Security seemed to be good at night but there were only men and this made me feel uncomfortable.
Staff was not friendly. Airport pick-up did not find us easily. Took us a while to get to the hotel. They charged me too much (more than Booking.com offered). The bathroom had technical issues: the shower was blocked and the toilet kept running. They did not fix it, even though they tried. For this price, I found this unacceptable.
It is also not as clean as it should be and the surrounding area is a disaster when it comes to traffic, pollution, cleanliness, … I would not recommend this place. Stayed in better places in Delhi. They also did not help us good with train bookings, we had to go to the train station ourselves to book something. Travel Center only does upscale stuff, I guess.
How to Book?
I always book my hostels and hotels through Booking.com but before booking I spend some time on customer review websites such as Tripadvisor to check out the latest satisfaction level of fellow travelers. And I usually check out some recent photos of the places before hitting the 'book now' button.
If you book through this referral link on Booking.com, you will get a 15 EUROS discount.
How much I spent on hostels in India
For a one month trip to India I spent about 300 EUROS in total, which is absolutely not more than 10 EUROS a day. Sometimes you pay less because of staying in dorms, other times you pay more because of ayurvedic treatments or houseboat experiences.
Alright now, I think you are ready to go! Do you have other tips and tricks to add? Or do you have other great hostel recommendations to add to this list? Share them in a comment bellow and help out other travelers to have the best experience ever in India too. And don't forget to subscribe to From Julie With Love. X
Processing…
Success! You're on the list.
Whoops! There was an error and we couldn't process your subscription. Please reload the page and try again.