Make the Most out of Your Time in India!
India is a massive country and it is impossible to see it all in one trip. Actually, many travelers will tell you that you will need at least a half year for a decent cultural immersion, but hey… who the hell has a 6 months holiday? Most people work, study or have a life (apart from discovering the world) and can only afford (in terms of money and time) to get a 1-month holiday. The same goes for me.
I only had 1 month to travel in India, and I wanted to see it all. If you want to make the most out of your 4 weeks in India, continue reading this blog to discover the perfect itinerary for first-time visitors who want to backpack through this massive and incredible country. Tested and approved! 😉
Where to Start
When I started planning my trip to India as a female solo traveler, I did not know where to start…
Was is safe to travel there alone as a girl without speaking the local language?
How many destinations could I cover in 4 weeks?
What are the top destinations that I should not miss out on?
Where should I sleep?
What is the budget I should calculate for this trip?
How do I cover the large distances within India and how do I book local transportation?
Will I get sick like 90% other travelers?
…
There were so many questions I struggled with and I spent a lot of time looking for answers. This blog post will help you to get started immediately so that you don't lose time and can start enjoying India from the start.
Top Regions To Visit
If this is your first time to India, I absolutely recommend to cover maximum 2 to 3 regions. Otherwise, you won't really get the chance to get a cultural immersion. I did some research and found out there are 3 main areas I wanted to see: Goa (West-India), Kerala (South-India) and Rajasthan (North-India).
The Perfect 4-week itinerary
The following itinerary includes most of the top destinations in West-, South- and North-India that you should see during your first trip to India. It is an intense but worthwhile and amazing route that will give you a good impression of the variety that Indian culture has to offer.
It is also perfectly do-able by public transportation for solo (female) travelers. It includes two beautiful but two very different two-week trips to India: from West to South India, and the best of North India including Rajasthan and the Taj Mahal.
Part I: SOUTHERN INDIA & KERALA (17 days)
Day 1: Home – Mumbai (Bombay)
Day 2: Mumbai
Day 3: Mumbai – Goa
Day 4: Goa
Day 5: Goa
Day 6: Goa
Day 7: Goa – Hampi
Day 8: Hampi
Day 9: Hampi – Mysore
Day 10: Mysore
Day 11: Mysore – Bangalore – Cochin (Kochi)
Day 12: Kochi
Day 13: Kochi – Alleppey
Day 14: Alleppey
Day 15: Alleppey – Varkala
Day 16: Varkala
Day 17: Varkala – Trivandrum – Delhi
Part II: NORTHERN INDIA & RAJASTHAN (14 days)
Day 18: Delhi – Agra
Day 19: Agra (Taj Mahal)
Day 20: Agra – Jaipur
Day 21: Jaipur
Day 22: Jaipur – Pushkar
Day 23: Pushkar – Udaipur
Day 24: Udaipur
Day 25: Udaipur – Jodhpur
Day 26: Jodhpur
Day 27: Jodhpur – Jaisalmer
Day 28: Jaisalmer
Day 29: Jaisalmer – New Delhi
Day 30: New Delhi
Day 31: New Delhi – Home
Would you like to find out more about these destinations? Then keep following this blog in the future because I will be writing about these destinations in other blog posts in the future.
Itinerary Check… Now, Connect your Destinations
Once you have decided that you will go on this journey, it is time to start booking your tickets for local transportation between these destinations… or not?! Well, this is a tricky one.
When I started to look into the options for trains, buses and flights in India, I soon discovered that it is not always as straightforward to book your tickets. So check out this blog post to find out flight, train, bus and taxi bookings in India to find out some useful and necessary tips to get you started.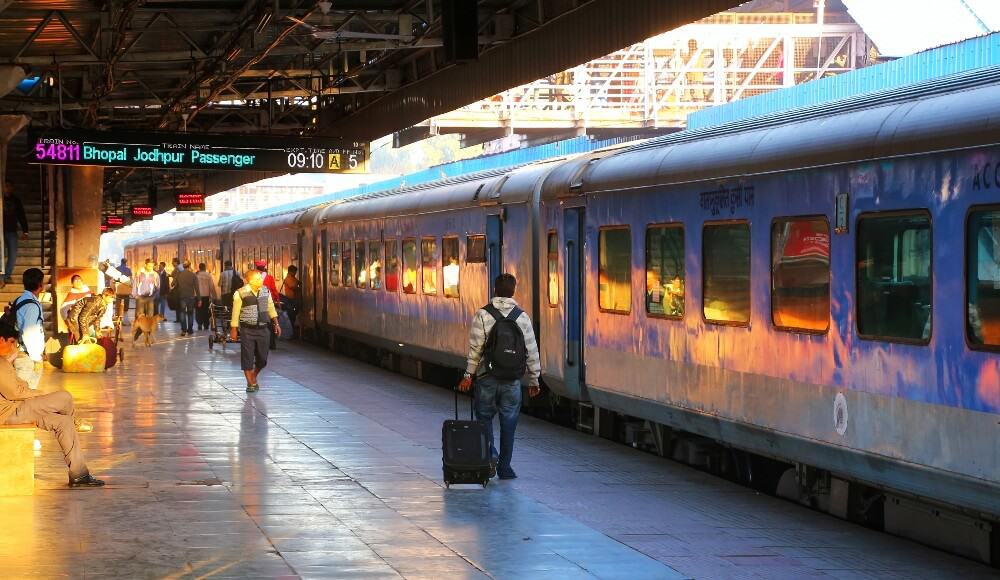 Where to Sleep on a Budget?
After having figured out (more or less) how you will manage to get from A to B in India, you might want to think ahead about accommodation. India is a developing country and especially if you are traveling on a budget, sleeping options may surprise you sometimes in a negative way if you are not well-prepared.
A tip I would give any first-time traveler to India is to lower your expectations: especially sanitary facilities are not meeting Western standards and cleanliness levels are lower than anywhere in the world where I have traveled to so far. My perspective on this is: the less you expect, the more positively surprised you can turn out to be once you are there enjoying your travels.
The good news is that there are some amazing hostels in India, from hidden gems to popular chains that own hostels all over the country. If you want to know more about my hostel recommendations in India and how to book them, check out this post.
Where to Eat (without getting sick)
Countless backpackers on the road have experienced sickness because of the food they have been eating in India, and I would NOT even suggest you to check the internet about traveler's sickness in India because you will hear the wildest stories about 'Delhi Belly' (travelers' diarrhea).
The truth is… I haven't been food-sick one day during this trip! Actually, I might have been close to a food coma, but that was only because I enjoyed the Thali's so much that I have been overeating and over-enjoying them. LOL. The food has been delicious, and you will enjoy it too if you are open to discover the world of spices and veggies!
Read this blog post to discover what my favourite foods in India are, and where to eat them without getting sick!
Last but not least… What is it going to cost me?
As you may already have understood from reading above, it is worth to spend a bit more on good food and national flights to allow yourself some comfort and safety. But you can save money on sleeping and bus tickets if you follow my tips.
My trip costed me approximately 1000 EUROS in total:
150 EUR for 3 national flights
100 EUR for local transportation
300 EUR for sleeping (10 EUR per night)
300 EUR for eating (10 EUR a day)
100 EUR for sightseeing and retreats
50 EUR for other personal spendings
Traveling together with others does not only allow you to save money on transportation and food, because you can SHARE, it is also much safer, social and enjoyable if you are single, and especially if you are female. How nice is that!?
SO… Good to go now? Enjoy your trip to India and do not hesitate to comment bellow if you have any question or other suggestion. Don't forget to subscribe and check out the other posts!
Processing…
Success! You're on the list.
Whoops! There was an error and we couldn't process your subscription. Please reload the page and try again.