Traveling in India can be so much fun but you don't want transportation to kill your travel vibe. Don't get me wrong, I love traveling around in India but its transportation can be chaotic, and even that is an understatement. So, if you are planning to travel around in India, you can expect some serious adventure. But this post might help you out and get you start.
Continue to read if you want to:
Know what's the best way to book trains and buses in India
Avoid unnecessary traffic jams in Indian cities
Book the cheapest flights to India (and between Indian airports)
Learn how to save money in India by using public transportation
Find out which apps I use to travel around in India
Booking Cheap Flights
The biggest international airports usually have the highest probability to find cheap flights because there are a lot of flight on a daily basis from anywhere in the world. India's busiest airports are located in Delhi, Mumbai and Bangalore.
However, I do not recommend first-time travelers to India to start their journey in New Delhito avoid an extreme culture shock upon arrival. It is better to end your trip here as you will get used to extreme population, pollution, traffic and common tourist scams by the time you finish your month in India.
Mumbaiis also a very busy city but this Bollywood capital is culturally more interesting to visit and not as crazy as Delhi. Bangaloreis the heart of India's IT industry but not that interesting for tourists. So, I decided to book my flights to Mumbai (also called Bombay) and started my one-month journey through India from there.
I love using Skyscanner for booking my international flights because it allows you to be flexible with your dates and destinations, and that way you can search easily for the cheapest flights.
Itinerary Check… Now, Connect your Destinations
Once you have booked your flights to India, it is time to start thinking about your reservations for local transportation between these destinations… or not?! Well, this is a tricky one. Some travelers might prefer to go with the flow and book tickets once in-country, but it is highly likely that India is a bit different from most countries you have ever visited.
When I started to look into the options for trains, buses and flights in India, I soon discovered that it is not always as straightforward to book your tickets. Websites can be unclear or are not allowing foreigners to book online.
So continue reading to find out flight, train, bus and taxi bookings within India to find out some useful and necessary tips to get you started.
Booking Flight Tickets
India has a lot of national airlines that fly regularly (if not daily) between several larger (and increasingly also smaller) cities. Population growth has its benefits for travelers too… There are both regular airlines such as Air India and low-cost carriers such as Indigo, SpiceJet and Air Asia. Most airlines are not amazing and air travel is not that environmentally-friendly, but it obviously is often the fastest way to travel from A to B.
For the 4-week Indian journey I proposed in my other blog post, I recommend you to book 4 national flights because it saves you a lot of hassle and time on local trains and buses, and it is so much more comfortable to hang around in airports and -planes than in train and bus stations.
Mumbai – Goa
Bangalore – Cochin
Trivandrum – Delhi
Jaisalmer – Delhi
Don't worry: flights in India are usually not that expensive at all. You can book cheap tickets between Indian cities if you book well in advance, if you travel in economy class, if you do not take more than 20 kg on board, and if you are not picky on your airline and scheduled departure time.
Calculate between 20 USD (for a 1 hour flight) and 70 USD (for a 3 hour flight) for one national flight. Do not expect complimentary services such as priority check-in and on-board meals for this price, unless you go for the more costly fare plans.
Booking Train Tickets
Most train journeys should be booked high ahead in advance because trains fill up quickly, especially the nicer classes that travelers (and increasingly Indians with financial means) book: 1AC (the most expensive and best first class), 2AC and 3AC are also OK. I do not recommend to book Sleeper class.
The problem is that the Indian website IRCTC does allow foreigners to create an ID to make bookings, but it does not allow non-Indian phone numbers to confirm the account. Save yourself the effort and do not even try to book online through the official website as a foreigner.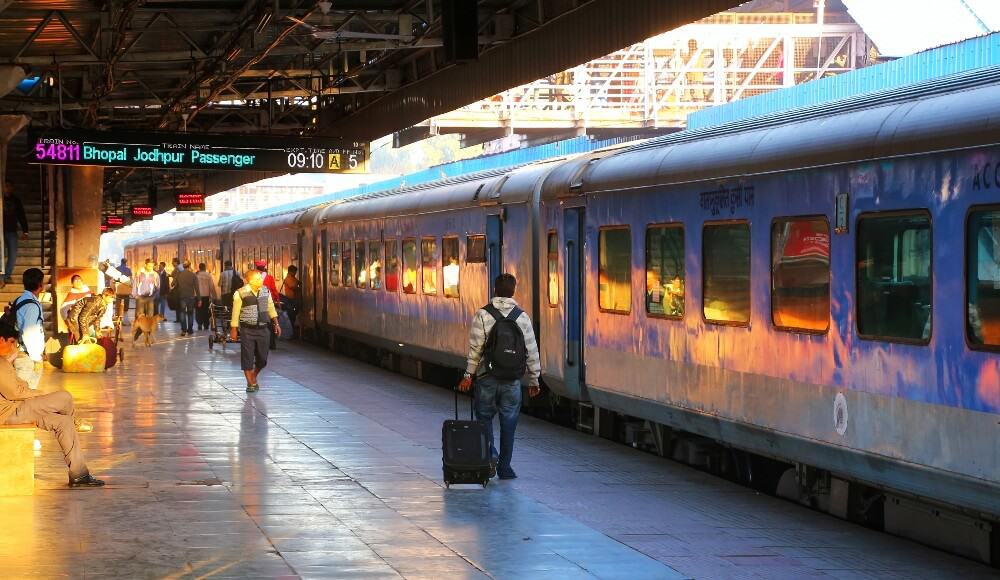 Some websites such as ClearTrip serve as intermediaries for such train bookings, but availability is low. I got bad luck: my ticket did not get confirmed but I got it refunded. The only solution is usually to book your train tickets once you are in India through your hotel, hostel, local travel agent or Indian friends.
Once you got your ticket, do not expect to be all settled: keep track of your Live Train Status through the IRCTC app because trains are often running for more than 2 days and get delayed because of smog alarms (and low visibility), people running on train tracks and so on. It was not uncommon to have a 5-hour delay on a 2-hour train trip. Calculate some spare time for delays. And no, do not expect compensation or refund. You are in India.
Booking Bus Tickets
Everyone always talks about railway journeys in India, but hey… Bus journeys are super fine, and a great option even when the trains are NOT fully booked. Buses can be booked until a few hours before departure because there are so many options to choose from, so this is really a great option if you want to travel with the flow.
The popular app 'Redbus' is the best digital solution for booking bus tickets anywhere in India. You can easily search for bus journeys between destinations, select pick-up and drop-off locations, as well as your preferred type of bus:
AC or non AC bus
sleeper or seater coach
morning, day, evening or night departure
All you want. I ended up preferring to travel by bus because it so much easier to book and follow up your reservation, and you even get convenient SMS notifications to follow up the live status of your bus and to stay in touch with your driver. What more do you need? Well, arrive safe and sound!
Booking Taxis
You can also use some taxis to get from A to B at times. Official taxis are of course the most expensive travel option and probably not that interesting for backpackers. But, did you know that India has Uber and Ola Cabs? It works amazingly great!
The good thing is that these drivers are reviewed and this makes it also a more safe and trustworthy option. So… don't worry about this. Another thing to keep in mind is traffic jams. Unfortunately, by taxi, you need to take into account the common traffic jams in Indian cities.
I also liked to book pre-paid taxis in airports at the arrival hall counter. This way you are immediately sure about the final price of your trip. And yes, even taxis are cheap! So go ahead, and ride them!
Conclusion
Traveling in India can be so much fun but you don't want transportation to kill your travel vibe. So if you want to enjoy trip follow these tips and you'll be fine. Do you have other tips and tricks to add? Share them in a comment bellow and help out other travelers to have the best experience ever in India too. And don't forget to subscribe to From Julie With Love. X
Processing…
Success! You're on the list.
Whoops! There was an error and we couldn't process your subscription. Please reload the page and try again.