It is no longer a secret that I am a Gypsy Soul, I love to travel and I developed my nomadic soul definitely while living here on Mallorca. The past few months on this beautiful island have been a blessing and I have had the opportunity to visit many of its beautiful villages, beaches, restaurants and hotels. Today I want to share with you the hotels that I enjoyed most, based on the price, atmosphere, location, view, service, … you name it!
This is my Top 10*:
Cook's Club, Palma Beach
Hotel Mama, Palma de Mallorca
Hotel Bella Colina, Paguera
Hotel Sa Baronia, Banyalbufar
Bikini Island & Mountain Resort, Port de Soller
Hotel Dalt Muntanya, Orient
Pension Bellavista, Port de Pollenca
Boutique Hotel Jardi d'Arta, Arta
Som Suret Cool Hotel, Portopetro
Cal Reiet Holistic Retreats, Santanyi
*The hotels are not listed in order of preference.
1: Cook's Club Palma Beach, Playa de Palma
OKAY, I work for Thomas Cook. That is no longer a secret. But… It is not because I work for Thomas Cook that I am going to list all Thomas Cook hotels here. No. I have carefully tested some of their branded hotels and resorts (such as this Cook's Club Palma Beach), and this came out as my favorite one for gypsy souls (& digital nomads too, because it offers a co-working space!).
Cook's Club is a new hotel chain with hotels opening all around the world for the new Millenial generation. It focuses on good music, street food on demand, great cocktails at the pool bar and chilled-out vibes. It also has a much more trendy and comfy vibes than any other typical holiday hotels that you will find in Playa de Palma (or tourist resorts), so if you're looking for a beach holiday spot to crash, this is it!
PS: Palma is only 1 bus ride of €1,50 away (so it's also great for a city trip & beach getaway)!
2: Hotel Mama, Palma de Mallorca
If you want to stay in the city of Palma de Mallorca where the buzz is really going, then I completely understand. I am in LOVE with this city (ever since I started living here since March 2019). Although I do not need to sleep in hotels here (because I have a place to live), I do like to go check out other hotels, such as Hotel Mama, and particularly their rooftop terraces and pools. Yes, I am addicted to living a high-society life… 😉
One of the most chilled-out, highly From Julie With Love – styled design hotels in the city is Hotel Mama. That is: Artisan tiles, collector furniture, natural light and inspired by styles ranging from Art Deco to oriental influences! YES, make yourself at home here! Mama will take care of you, whether it is in one of the 6 different kind of prestigious room types, at the tapas bar or in the Grand Café, Hotel Mama is a pearl in the city (with great views over the cathedral and historic town)!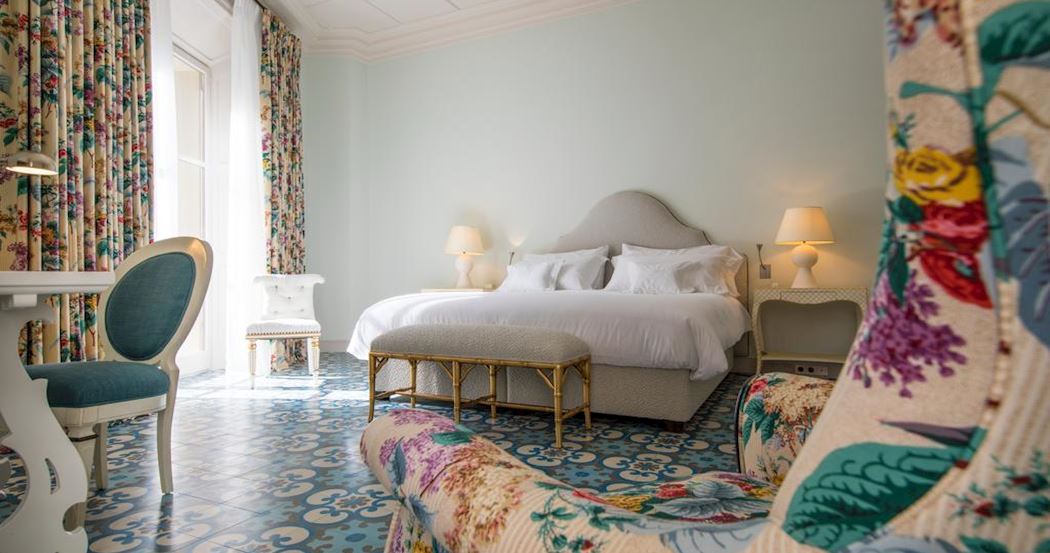 One more reason to visit Hotel Mama for me is the unique cinema experience that it offers with Cappucine: the hotel offers you to enjoy both vintage and contemporary films in a magical cinema inspired by some famous paintings that will brings you back to 1920s Paris. This is an extremely exclusive and comfortable movie theatre, that has screenings Friday, Saturday and Sunday at 5PM with only 30 seats. Original version with subtitles in Spanish. Bookings through the reception. 
3: Hotel Bella Colina, Paguera
A bit more to the West side of Mallorca, not particularly my favorite part of the island with party places for English and German tourists, there are some exceptions to the rule. Luckily! The reopened Bella Colina Vintage Hotel est. 1953 is one of those places that magically sets new standards and belongs to the most beautiful houses in the region.
It is located on a privileged hill-site in Paguera and therefore has a panoramic view of the Mediterranean Sea and the surrounding mountains. I am absolutely amazed by the happy and colorful vintage design of the lounge and the restaurant. Hotel Bella Colina So colorful that I cannot resist… Who would not love to spend some time there?! This is a place that will make you happy!
All rooms have airconditioning and there is also a swimming pool, a lounge and a pool bar with cocktails, snacks and relaxed music. Hammock spotted as well! Gosh, what a place!
4: Pension Sa Baronia, Banyalbufar
If you are looking for a place to relax and enjoy one of the best sunsets on the island, in my opinion, there is no better place than Pension Sa Baronia. For a really affordable price (I paid only 90 euros for a double room for 2 persons including breakfast in high season), you get to unwind completely and forget about all your sorrows.
My friends called me crazy when I said I was going to Banyalbufar – a really small village in the Sierra de Tramuntana – but I turned out to be right: it is an ideal place to relax after hiking or cycling, and there are some places to visit nearby, such as Torre del Verger (one of my Top 10 Instagram Spots on the island).
An absolutely gorgeous swimming pool located on the hill-side edge offers stunning views over the rural terraces and Mediterranean Sea whereas the hotel Sa Baronia itself is located in a 17thcentury old stately home.
5: Bikini Island & Mountain Hotel, Port de Soller
LIFE IS BETTER IN BIKINI, they say at Bikini Island & Mountain Hotel. Okay, this might not be the cheapest option of this hotel list, but it is on my ultimate Mallorca Bucket List ever since I got to the island and discovered the happy rainbow staircase of this hotel in Port de Soller.
One obligation: "If you're going to Bikini, be sure to wear flowers in your hair.You're going to meet some gentle people there!" it reads on the ground before entering the staircase. So, don't break the rule and go 100% for your GIPSY SOUL outfit and mindset. Well yeah, after all… There are nice places, great places and there's the Bikini Island & Mountain Hotel Port de Sóller: 
PS: Make sure to eat at the incredible NENI Mallorca restaurant and enjoy the views over the port of Port de Soller. And oh yeah… of course, they also organize yoga retreats here!
6: Hotel Dalt Muntanya, Orient
Sometimes all you have to do is get away from it all. Go OFF THE BEATEN TRACK and head into the heart of the Serra de Tramuntana, declared a World Heritage Site by UNESCO. to discover Hotel Dalt Muntanya. It is the home of tranquillity itself in perfect harmony with nature. Few hotels will feel so cosy and personal as this one. 
Relax at the beautiful pool and enjoy some of the best hidden restaurants of the island, such as Restaurant Mandala, or go for a degustation menu in the neighboring hotel Son Palau. Jummie! And romantic (even if you don't have a boyfriend, but just bring a friend, like I did).
7: Pension Bellvista, Port de Pollenca
Pension Bellavista is an oasis for budget-lovers on Mallorca, located in the heart of Puerto Pollensa. I challenge you to propose a better hotel than this one for this price-quality on the island. This place is the best of the best deal! It has no swimming pool, but it has an on-site vegan and vegetarian restaurant (and that is unique for Spanish meatlovers) with tested and approved meals by From Julie with Love.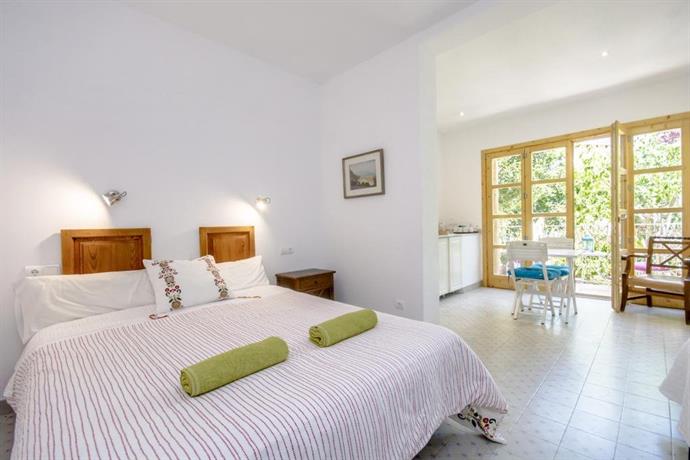 Pension Bella Vista is a family-run pension and the owners has a big heart for animals. They are active in animal shelters on the island and therefore only accept animal-loving-guests. Yes, one cat accidentally jumped into my room from the balcony and decided to sleep next to me. I just enjoyed my one-night stand! 😀 
PS: As it is located right by the bus stop, it is a perfect base to explore the North of Mallorca with beautiful beaches like Playa de Muro, the famous Cap de Formentor, the historic city of Alcudia, and a direct connection to the airport… all by bus!
8: Hotel Jardi d'Arta, Arta
Voltaire once said: "The paradise on earth is where I am". Well, maybe he was at Hotel Jardi d'Arta, a hotel with a stunning Arabic garden and still enough Mallorcan soul to feed your hunger for Mediterranean flavours. This is one of the most charming town hotels on the island, and conveniently located in the heart of the town of Arta but also a short ride away from many beaches in the North East.
There are only 9 lovingly designed rooms and 3 suites in this boutique hotel, so each of them have their own unique character. I can't help but dream away when looking at its pool by sunset. Isn't this a piece of heaven on earth? Yes, sometimes dreams come true.
9: Som Suret Cool Hotel, Portopetro
On the east side of the island of Mallorca, you will find tons of hotel resorts that are packed with tourists on crowded beaches. The Som Suret Cool Hotel, also known as the former Varadero Hotel is a break of that trend on the east coast. It is Adults Only (yes, sorry, but if you're on a holiday without children, you most likely prefer also not to be surrounded by children, especially at the pool). 
Hotel Som Suret is situated just a few meters from a traditional maritime port and offers a bit of a different and exclusive holiday experience for a short escape or a holiday with its incredible rooftop Ibiza-style white lounge, beautiful views and comfortable beds. And all of this at very affordable prices, which is probably one of my main reasons to choose for this hotel: price according to quality!
10: Cal Reiet Holistic Retreats, Santanyi
If it can be a little bit more, and if you are looking for a holistic wellbeing retreat instead of a 'normal' holiday as a gypsy soul, then Cal Reiet is maybe something for you! I would actually not really call this a hotel, as the idea is to come here to restore yourself in a special environment with treatments, massages and special body, mind and spirit offerings on the menu. 
For Cal Reiet, holistic living is all about the lifestyle, and the property breaths that ideology. Whether you come as an individual or in a group retreat, you will be pampered for sure here. Cal Reiet is an oasis away from everyday life where you can rejuvenate, grow and reconnect with your true-self. Its aim is to create a magical place, where guests can find inspiration, joy and harmony within.
Reservations
If you book through this link via Booking.com, you get 15 euros discount (after your stay) and me too! So please, use it wisely… and let me know how your trip to Mallorca was. Or if you have another hotel tip to share.
Have a nice time in Mallorca, you gypsy soul!
x x x From Julie with Love x x x